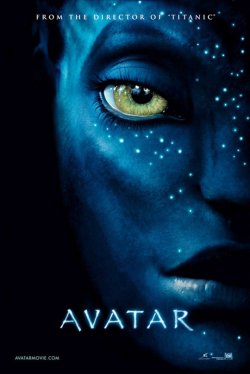 I took in Avatar, James Cameron's first real movie of the 21st century, with BamaDan and Dad tonight.  We did it right—in 3D at the Privé, with a round of Sam Adams.
Regular readers know I'm not an opening weekend sort of guy.  I'm not going blow-by-blow on a blockbuster almost a month after release, so I won't bother with a full review, but here are a few thoughts.
Surely you have read soaring hyperbole from all corners about the jaw-dropping visuals.  I mean, people can't shut up about it.  This is a game-changer.  This might be the most visually arresting movie ever.  This world is so immersive, it's unbelievable.  The bar is raised—a lot.  Blah, blah, blah.
Know what?  "People" are right.  I think it might be impossible to overstate how beautiful this movie is.  "If you see no other movie this year…"  Heh.  Seriously, this one deserves the big screen.  If high-impact visuals make you warm, this film will wear your freak right the hell out, collapsing you in a heap of euphoric exhaustion.  Go see it.
And I'll throw the final aerial battle in there as one of the best I can remember.
Unfortunately, all of this top-of-the-top stuff serves a relentlessly stock plot, almost laughably predictable in its execution.  You can tell the whole story after watching the first half-hour (no small trick when it weighs in at 2:42).  At any point after that first half-hour, you can describe in detail three to five scenes that are to occur as the film progresses.
"Well, it is Jim Cameron." – BamaDan
If Cameron could ever relinquish enough ego to turn loose script people who are as good as his visuals people are, he'd ultimately be remembered as a cultural giant, instead of a pretty good film director.
Appreciate what I'm saying here:  with a story made with as much care as the visuals, Avatar is a legitimate contender for best movie ever made.
Instead, it pulls up at "excellent."
8/10
Similar Posts: