I posted a little something about it a little while back, and now it's here.  Anomaly, Ace Frehley's first album of all-new material in 20 years, was released today.
Okay, you want the capsule version?  This is the best record Ace Frehley has ever done.
I can't remember the last time I listened to an album six times, top to bottom, the day I bought it.  I've felt 17 years old again all day.
At times, it hits a groove and really does sound like what you'd imagine classic '70s Kiss would sound like were it recorded today.  But it never plagiarizes; it always evokes.  I smiled as "Space Bear," one of three instrumentals on the record, played today, and I recognized some structural commonality with "Acrobat."  The melodies are completely different, but the songs are assembled similarly.
At other times, I hear what I've always wanted to hear more of in contemporary hard rock.  Too many artists today crank up the heaviness, but abandon the melody in the process.  I submit any of the first three cuts—"Foxy & Free," "Outer Space," or "Pain in the Neck"—as ample evidence that you can make your sternum resonate, but still keep it whistleable.
At still other times, I feel like I get a genuine window into his psyche.  I like "Dolls" from the first Frehley's Comet album, but I almost feel like I get the vibe he was really going for when I listen to "A Little Below the Angels."  Man, listen to that work in the break.  Wow!  And how can a song as slow-tempoed as "Change the World" avoid sounding deliberate?  I don't know, but it does.
You can look at the blueprint, and be tempted to call it his '78 solo brought forward.  There are straight rockers; there are experimental turns; there's an entertaining glammish cover (an excellent pass at Sweet's "Fox on the Run"); there's a fourth "Fractured" installment.  It's a much more complete package than that (still excellent) record, though.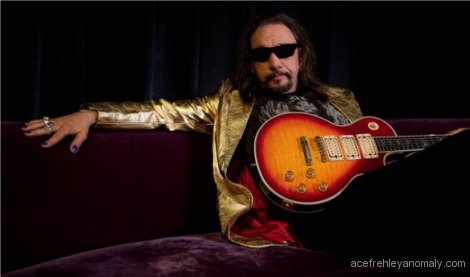 Bottom line:  it's a mature and confident genius, unclouded by substance or circumstance, turning it loose with nothing to prove.  And it's always unmistakably Ace.  That this record wallops you with so much Aceness without ever ripping off past glories is really its killer feature.
I elevated my expectations substantially after a buddy with an advance copy of Anomaly sang its praises, and those expectations were still pummeled.
As of this writing, this is my favorite record of 2009 by a wide margin.  I say with full confidence that this is a must-get for any hard rock fan.  And if you've ever called yourself an Ace Frehley fan, you might take a day or two off just to sit and listen to it.
I'm not a gusher, dammit.  I'm gushing.  10/10.  Bravo!
Similar Posts: