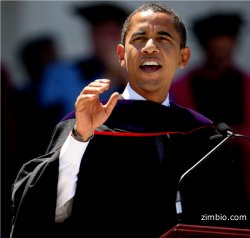 Victor Davis Hanson has finally placed Barack Obama's consistently strange, detached, and amateurish day-to-day political behavior into a framework in which it makes perfect sense:  the United States is a big university, and Obama is the campus president.
Quoting his column:
Obama went to Occidental, Columbia, and Harvard without much of a break, taught at the University of Chicago, and then surrounded himself with academics, first in his stint at community organizing and then when he went into politics. It shows. In his limited experience, those who went to Yale or Harvard are special people, and the Ivy League environment has been replicated in the culture of the White House.

Note how baffled the administration is by sinking polls, tea parties, town halls, and, in general, "them" — the vast middle class, which, as we learned during the campaign, clings to guns and Bibles, and which has now been written off as blinkered, racist, and xenophobic. The earlier characterization of rural Pennsylvania has been expanded to include all of Middle America.

For many in the academic community who have not worked with their hands, run businesses, or ventured far off campus, Middle America is an exotic place inhabited by aborigines who bowl, don't eat arugula, and need to be reminded to inflate their tires. They are an emotional lot, of some value on campus for their ability to "fix" broken things like pipes and windows, but otherwise wisely ignored.
(I thought that description of Obama's naked disdain for "flyover country" was brilliant.)  From the incessant (unchanged) rhetoric to the endless hallways of czars, it all makes sense if you imagine the trappings of academia around it.  Like I said, it's a great piece.
I'm chewing on the comparison in terms of understanding the behavior of some of his supporters, as well.  I am personally acquainted with several people whom I know to possess critical thinking skills, but are clearly allowing their support for Obama to overwhelm them (far beyond the usual double standard that permeates my-guy-vs.-yours politics).
Perhaps they are simply remembering fondly—and reliving—the days of being a good college student.

Similar Posts: