You remember Cindy Sheehan, I'm sure.  She was a vocal anti-war protestor whose son was killed in Iraq.  She protested for an extended time outside Bush's ranch.
Know what she's been doing since Obama got elected?  Exactly all of the same things.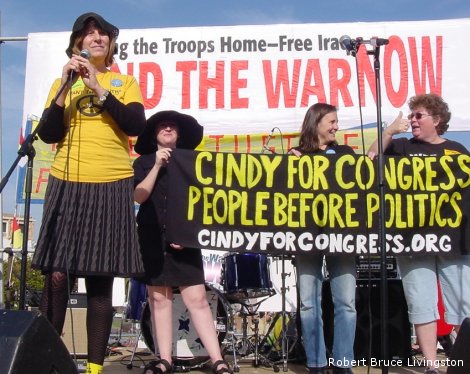 She'd like to know what's become of the anti-war movement since January 20, 2009, though.
You know, I'm confident there are huge swaths of disagreement between us.  There are large parts of my ideal world that wouldn't resemble hers much at all.  But I respect her.  She has principles that aren't determined by whether the president has a D or an R after his name.  However wrong I think her ideology is, there is evidence that it is pure.
(On that note, let me say, prophylactically, that you'd have little trouble finding me raising hell about liberty and fiscal discipline concurrent with the Bush administration.)
You people could learn something from Sheehan, and by "you people" I mean all of you wussy, spineless, hypocritical liberals who (apparently, only now) haven't the first problem with things like the PATRIOT Act, the wiretapping, the eavesdropping, the military tribunals, and any number of other things that haven't changed at all (or have actually worsened!), all because your precious little god-king sits in the Oval Office.
(Cindy Sheehan plans to protest on Martha's Vineyard when The One is vacationing there, incidentally.  Let's watch for what I'm sure will be copious and unending coverage of it, okay?)
Similar Posts: