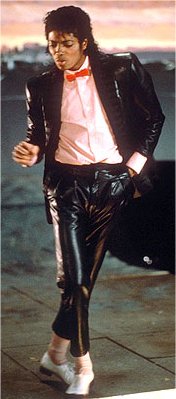 No one else in my lifetime has ever been as famous as Michael Jackson was in 1983.
His star power was nearly unfathomable, its magnitude impossible to overstate.  Affection for him was universal.  Everybody liked Michael Jackson, and people who called themselves Michael Jackson fans absolutely adored him.  He was a true song and dance man for the 1980s, with what seemed to be limitless talent.
He was a big star before then, and he was a big star after then.  But the Thriller heyday stood alone—right in a glorious intersection.  Music video had exploded, but the exponential decay of our attention spans hadn't really accelerated yet.  It may well be that the fame he had is impossible now.
Of course, he'll be remembered for his substantial eccentricities at least as much.  You can throw out the false charges—Joseph Merrick's bones, the hyperbaric sleep chamber, and whatever else—and still be left with plenty in evidence to reasonably conclude that he became an awfully weird guy.  I have always had my doubts that he was ever truly dangerous to children, but at the very least he certainly had some strange circuits.
I just kept having the feeling he was going to come back with a great record and tour.  Both my shock and my sadness are greater than I would have thought.
Once in a while my mother would speak of celebrities as if she had direct knowledge of their emotions.  Often it was ridiculous.  I remember her going on and on once about the love for Bill she saw in Hillary's eyes in some interview or another, for example.
But about 1992, I remember her saying of Michael Jackson:  "He's never had a chance to just be.  He's been merchandised his entire life.  It's probably amazing that he's as normal as he is."
RIP.