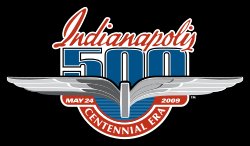 The 93rd running of the Indianapolis 500 is today!  I've heard noon CDT/1 EDT for the start time.  Television coverage on ABC starts an hour earlier, I think, and if past races are any indication, there still could be a lot of pre-green flag grabass even at noon.
So who the hell knows exactly when the race will start, but monitoring from noon CDT on seems a safe bet.
Clan BamaDan is coming over to watch it with us, with board game hilarities to follow.  That is, assuming none of our children get cholera in the next four hours.  We've had to cancel plans with them three different times because of child-resident pathogens, so I'm pleased we're finally going to spend some fun time together.  We are definitely overdue some merrymaking.
The forecast has consistently said a 30% chance of rain for Indianapolis this afternoon.  There's nothing organized up there, so anything that does happen should be of the pop-up variety and easily overcome.  I'm optimistic.

So here's the grid.  Danica's starting 10th.  Teammate Tony Kanaan, aka "the best driver never to win the Indianapolis 500," is starting 6th.  Those are my horses.  I also have a soft spot for Vitor Meira, mostly because it seems like every time he has a good car, something not of his doing takes him out.  He's starting 14th.  Finally, I like Sarah Fisher because she's so down-to-earth and also self-financed, but it's unlikely she'll be a factor.  She's starting 21st.
Helio Castroneves is clearly the driver to beat.  He's the pole-sitter by most of a full mile per hour, which is pretty scary considering how close the rest of the field is.  We might need him or his team to make a mistake.
I've made the pitch before—if you like auto racing and you're not currently following IndyCar, do yourself a favor and watch today.  It's the best series going.
Similar Posts: