As I write, the House has just passed a "stimulus" bill that is advertised at $819 billion.  (It's really closer to $1.2 trillion—that's $1,200,000,000,000—because they're not including loan interest in the PR number.)  Eleven Democrats cast "no" votes, but more interestingly (to me), no Republicans voted for the bill.
Perhaps this is the first step in a long march back to fiscal respectability.  (Let's face it:  I don't have any plausible hope of seeing a Libertarian or Constitution Party majority in Congress in my lifetime, so Republicans with spines is about as far as I fantasize.)
If you have not read The Wall Street Journal's analysis of this bill, you should.  Quoting (and summarizing) the article:
"This is a political wonder that manages to spend money on just about every pent-up Democratic proposal of the last 40 years."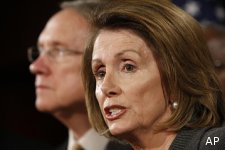 How about $50 million for that job dynamo, the National Endowment for the Arts?  How about three times that amount for the Smithsonian?  I like that we have a national museum of its caliber, but what has it to do with the economic health of the country?  How about $66 billion for the Department of Education—on top of the budget doubling under President Bush, and more than the department's entire budget a mere decade ago?
The bottom line is that, even using the most generous definitions of the term "stimulus," about 12% of this bill—not even an eighth of it—reasonably qualifies.
Mind, this is going to be law.  I don't have any illusions about that.  As President Obama so diplomatically put it:  "I won."
The only shred of encouragement I'm allowing myself is that Republicans may be rediscovering some semblance of principle in their copious wound-licking.  If they keep applying good sense consistently, and the Dems keep shooting the moon, perhaps 2010 will look like 1994.
Similar Posts: