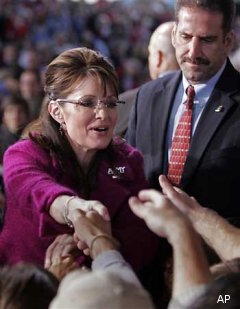 Clearly the first order of business for some significant part of the smarting Republican machine is to try to tag Sarah Palin with as much blame as will stick and throw her in the Bering Sea.
(Perhaps the ringleaders of this effort are the same bunch of yahoos who so badly botched her rollout, and they're looking to destroy the evidence.)
Michelle Malkin has a good piece on it today.
Some of the causes of the Republican defeat are easy to understand.  Some are complex.  Palin is on neither list.  My perception so far is that most of those so eager to write her political obituary are either a) the malcontents referenced above; or b) lefties who are scared to death of her and want that stake in her heart right now.
Those in category a):  if you possess an inkling of a self-preservation instinct, you'll cool your jets.
Sarah Palin is a star—a big star—and she's going to be around.  Team Sarah seems like a good place to keep up with her.  If you're interested in said keeping up, join here.
Similar Posts: