Edited: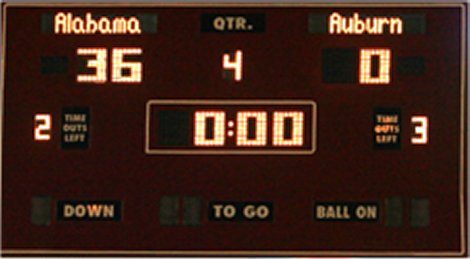 You may have heard there's a football game in Alabama tomorrow.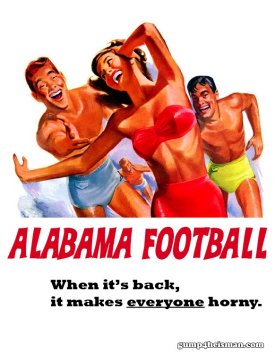 The annual gridiron meeting between the University of Alabama and Auburn University is known as the Iron Bowl, because for many years it was played exclusively with a 50-50 ticket split at Legion Field in Birmingham, a city built around large iron ore deposits.  It's been a regular home-home game for a decade now, but the name remains.
The Iron Bowl is the fiercest rivalry in sports.  (It's so adorable when someone claims some other rivalry is.)  The last time I watched Alabama win one, I was sitting in one of those godawful vinyl sleeper chairs in a room at Huntsville Hospital, with my not-quite-two-day-old son Nathan asleep on my chest.
Nathan had his seventh birthday two weeks ago.
We could be the 7-4 or 8-3 I thought we'd be at this point, or even well under expectations, and ending Auburn's winning streak would be a big deal.  Instead, we're 11-0, #1, and in full control of our own destiny for the national title.  So it's a huge deal.
Alabama's done a good job of playing one game at a time, and here's hoping that continues tomorrow.  Of course I don't want to lose to Florida, nor do I want to lose our bowl game, particularly if it's the BCS title game.  But the Auburn streak must end, and if we're 12-0 this time tomorrow night, I'll pronounce it a great year no matter what else happens.
We're not supposed to be here yet, and we are.  And that rocks.
Roll Tide!
Similar Posts: