My great uncle Ed Horton died last week.  He was 85.  I'm going with my dad and Martha to his funeral in a little while.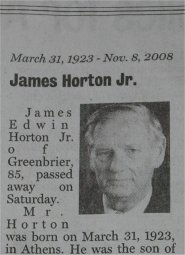 I stand in complete awe at the incredibly full life he had.  He was an Army captain and a World War II veteran, a college graduate, a hugely successful farmer and cattleman, a state senator, and sat on multiple boards of directors.  He was a member of Belle Mina Methodist Church for more than 60 years.  He was a loving father to three daughters, losing one to cystic fibrosis.  I don't remember how old Jean was when she died, but I doubt she was 30.  (Edited:  She was 31.)
Ed might also have been the kindest, sincerest, most eminently decent man I've ever known.  And I know I've never met a more even-tempered person.  That I (that pretty much anybody, I think) ever saw, Ed had exactly one mood.  He was happy, content, thoughtful, and ceaselessly easygoing.
All of the children absolutely adored him.  He had a real gift for relating to little people meaningfully, in a way that genuinely spoke to them without pandering to them.  Some of my favorite childhood memories are at his house.
He was precious.  The world is poorer.  RIP.
(Edited:  Here is a post remembering him on one of his nephew's blogs.)
(Edited:  Here is an excellent retrospective that appeared in The Huntsville Times this week.)
Similar Posts: