I spent today in Oxford and Anniston, where I lived until I was 15 years old.  The high school class to which I would have belonged had we stayed is holding its 20-year reunion this weekend, and a tailgate party ahead of the homecoming football game tonight was the first event.
I decided to leave this morning and catch up with the oldest of old friends for lunch, and also do a little driving around.  I know everybody says it, but isn't that "everything is small" feeling weird?  I visited my old neighborhood, and felt like I was stomping around in a model train layout.  The "long" drive I thought I remembered from I-20 to 10th Street turned out to be less than four miles.
Lunch, and an unexpected treasure, with Lori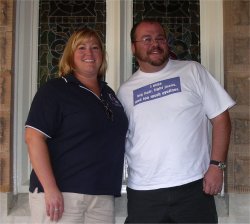 I last saw Lori in 1980.  I met her at Grace Episcopal Church, where we attended the Episcopal Day School together, and we walked from there to lunch at the Classic on Noble Street.  This carried us directly by the library, which our class visited biweekly.
We took a step inside to have a look around the children's library.  Some of the fixtures were different, of course, but it was largely as I remembered it.  As we were walking and talking, the children's librarian told us to let her know if she could help with anything.  We began telling her who we were and why we were visiting, and as we chatted, it gradually occurred to me who she was.  It was Mrs. Striplin, the very same lady who had run the children's library and read to us during story time 28 years ago.
We both hugged her and talked about those days, and then she offered to read us a story.  The old story time room is now a server lab, so a regular old table would have to do…but wow.  Just wow.  Lori and I sat as Mrs. Striplin read Duck for President to us in her magically expressive way, and I was 8 years old again.  What a tremendous and unexpected gift.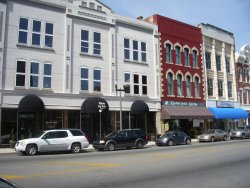 Lori and I each had the Classic's signature dish, shrimp and grits, for lunch, and it was wonderful.  I'd say we talked as if no time had passed, but as we were fourth-graders when we last saw each other, that would hardly be accurate.  Suffice to say we fell in as grown-up friends easily, mixing reminiscences with discussions of current events, sociology, and football.  It was such a pleasure to see her.
Oxford 26, Huntsville 3—and the end of my Wal-Mart streak
One of the things I missed most after we moved was Oxford football games.  Attending an Oxford game, from the size and attitude of the crowd to the quality of the band, was (and is) like attending a college game.  The place just thrums.  It's intoxicating.  Used to be it was literally half the town that showed up.  Now it's more like a quarter of the town (not because the crowd is smaller but because the city is so much larger).
Oxford dominated Huntsville from the opening kickoff.  The final score could have been a lot worse.  I got to hear the 2008 instantiation of the band I belonged to in 1986 play "Amazing Grace," an old homecoming tradition.  And of course I got to hear "Champions," the amazing Oxford fight song, several times.

Now one of the things I wanted to do this afternoon was get an Oxford cap.  I had some time before I met Karin, so I went to the mall.  Seems like a mall with three sports gear places across the street from the school would be a promising locale for such an item, doesn't it?  Nope.  The helpful young lady at Martin's, however, told me that she was certain they had them at Wal-Mart.
Dammit.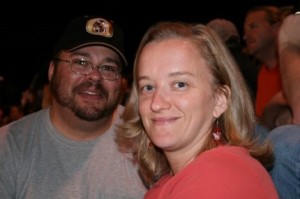 At exactly 4:30 this afternoon, my streak died.  Until then, I had not set foot in a Wal-Mart since October 15, 2006.  Now given the stakes, I'd have been mightily pissed had I not been able to purchase a cap.  Fortunately, I got one.  Let the new streak begin.
I had a marvelous time visiting with everyone—at the tailgate party, the game, and at dinner and drinks afterward.  Alas, I won't be able to attend the dinner event tomorrow night, but Karin promised she'd take lots of pictures.  (I hope she does, because I didn't get very many.)
Until next time, Oxford and Anniston.  Don't go changin'.
Similar Posts: