Good news, rest of the country:  we've likely deep-sixed those stupid black jerseys for you forever.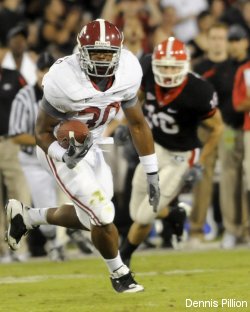 You're welcome.
Ladies and gentlemen, it's time to believe.  I said it last night, and I meant it:  'Bama is back.  In Nick Saban's second season, the Crimson Tide is one of the top two teams in the SEC and a legitimate national title contender.  There is no reasonable data that suggests otherwise.
The fan in me says that the natural order of the universe has been restored.  The cynic in me says that the wheels could still come off.
Could they?  Oh, sure, they always could.  But is it likely?  Hmmm.
Drunk on 5-0 and with perhaps a #3 or #4 ranking coming this afternoon, it's easy to forget that this team is still not particularly deep.  Alabama has been fortunate with (lack of) injuries, so we don't really have a feel for how the team will react to the loss of a star player.  Alabama declined far more than it should have in 2005 after Tyrone Prothro's career-ending injury.
However, Alabama has something today that it did not have then:  a truly excellent coaching staff.  Much has been made of Saban's personnel strategy, and indeed, he seems to be doing a great job building depth with what he has.
Moreover, there are two solid indicators of said excellence this season that, in my view, are not getting enough attention:
Alabama is one of the least penalized teams in the country.  The Tide has been flagged 18 times for 127 yards—all year.  Georgia managed about two-thirds of that just last night.
Alabama is averaging a single turnover per game.
Through five games, this team does not beat itself.  That trait always comes from the top.
Perhaps most importantly, while last night was a dominant performance in a hostile environment against a very good team, Alabama still slopped around enough to give Saban plenty to harp on in practice this week.  Though the outcome was never in question—the 11-point margin of victory was the closest Georgia came to coming back—the Bulldogs got plenty of trash points in the second half.  We're still too vulnerable to corner and down-and-out routes, and kick coverage remains mediocre.
Kentucky, still undefeated themselves, is next.  The only game is the next one.  This squad looked to be in danger of forgetting that in their second game against Tulane.  There hasn't been the tiniest indication that they've forgotten it since.
"It's morning in Alabama." – Greg Bacon
Similar Posts: