Behold, the professional wrestling of motorsports!
(Or maybe it's the figure skating of motorsports?)
The boys and I took in Monster Jam at the Von Braun Center this afternoon. It was a surprise for them. None of us had ever been in the same room with actual monster trucks before. We all left with big, stupid grins on our faces.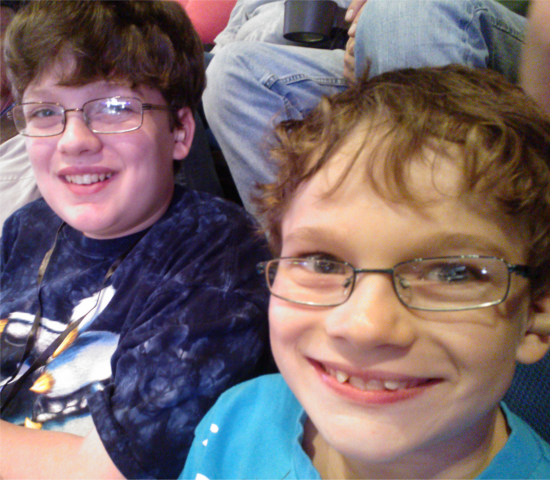 Monster trucks have two basic tricks. They run over junked cars and they do doughnuts. As I've said in other contexts, you don't need a lot of tricks if the ones you have are good enough. And for monster trucks, those two tricks are good enough. The spins and the flights combine with great clouds of adrenaline, testosterone, and unburned hydrocarbons to produce the aforementioned grins.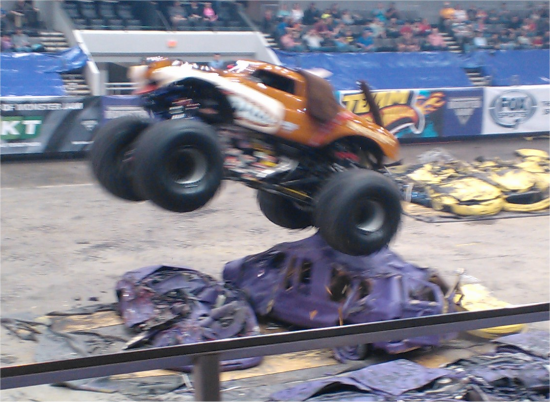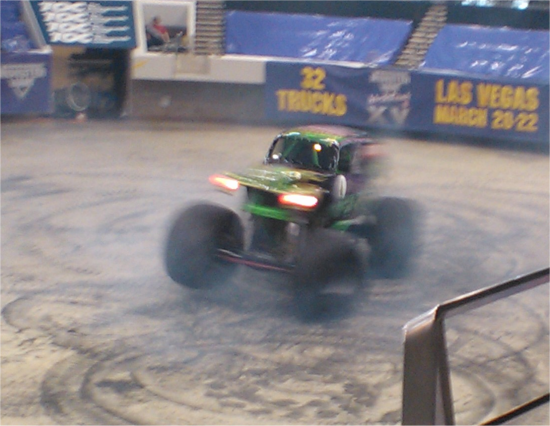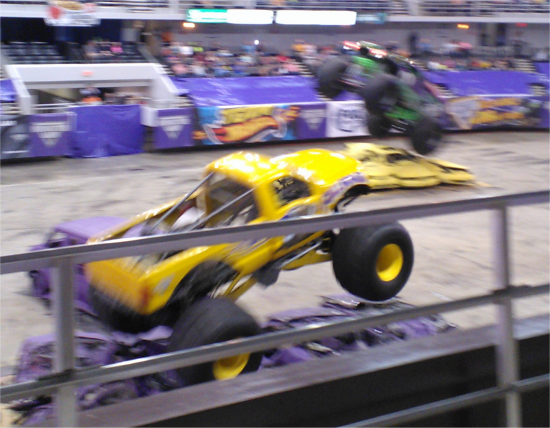 We had six trucks at our event. If anyone off the street can name a monster truck, it's usually Grave Digger, and lo and behold, there Grave Digger is! (Except guess what? According to the site schedule above, Grave Digger gets around. Grave Digger put on five shows in five different places today.)
There was a science-fictiony "skit" between a good robot truck and a bad reptile truck to start the show after intermission. It reminded me of bad Japanese science fiction that aired in the United States in the '70s. Remember Space Giants? Or Spectreman? There you go.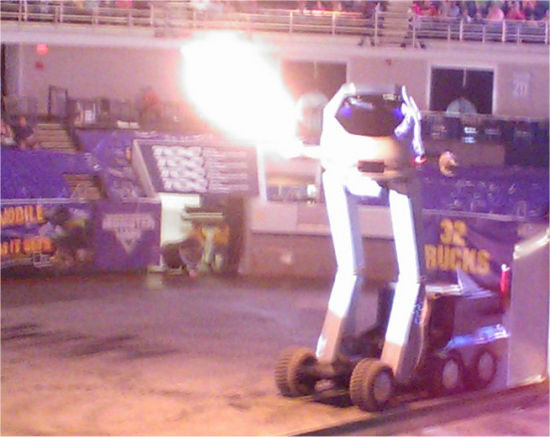 There is a supposed competitive aspect to the show, in which either judges award style points or the trucks are timed through a course. This seems mostly ridiculous to me and an obvious theatrical veneer, though the kind 50ish couple to our left seemed to take it seriously enough.
Now let me tell you about the sound level. I have sat directly on the catch fence at Talladega. I've seen perhaps 100 different heavy metal bands. I sat in turn four at Indy just last year. I have stood 100 yards behind an F/A-18 taking off with full afterburner. I think today was louder than any of those. I heard "take earplugs" from a few folks in the weeks before the event. Believe them. You need them.
Be warned: the noise, combined with the clouds of exhaust and burned rubber, shall reliably inflict cephalalgia on anyone susceptible. If you're prone to headaches, stay out of Monster Jam.
I didn't have any specific expectations. My general vibe was that any enjoyment I derived would be of a base, stereotypically male nature, having to do with machines and silliness and what-not.
Confirmed.
And for as little money as it was, we'll go again. This is cost-effective, family-friendly entertainment.